We got back from San Diego yesterday and had a wonderful time overall. On the way there I had some weird swollen hand thing going on (a side effect from some medication I was on), so the flight and first few days in San Diego were a little uncomfortable for me. Chris was pretty excited though . . .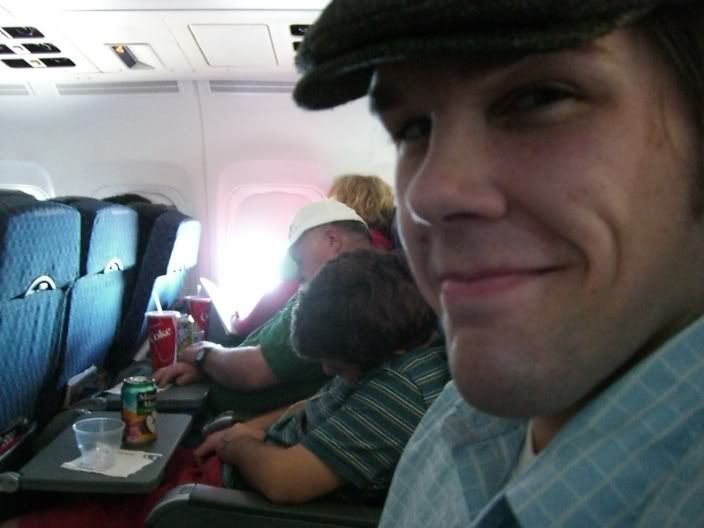 San Diego welcomed us with open arms . . . yes, that banner says "Welcome Shitheads" and was strung up downtown directly across from the convention center. In San Diego's defense, there are generally a lot of shitheads at Comic-Con as well as some lovely folks (most of whom are from Canada).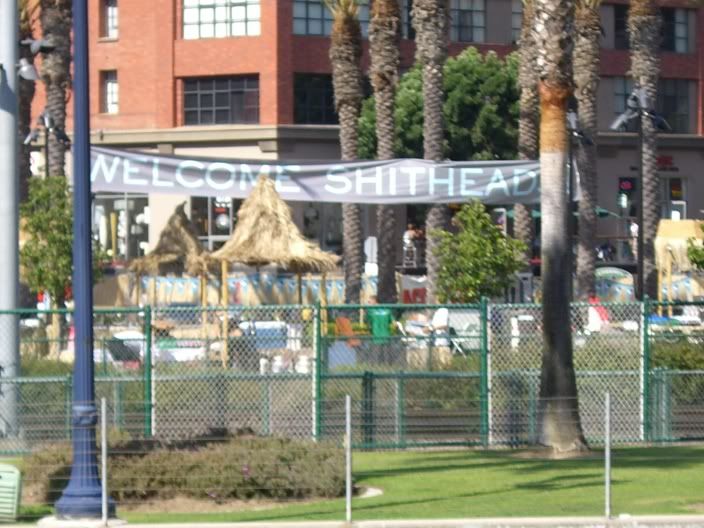 This picture below is a perfect representation of our relationship. Don't let the cute lunch notes fool you - this is the expression that Chris wears about 90% of the time we're together. Apparently I can have a "frustrating" personality at times. :)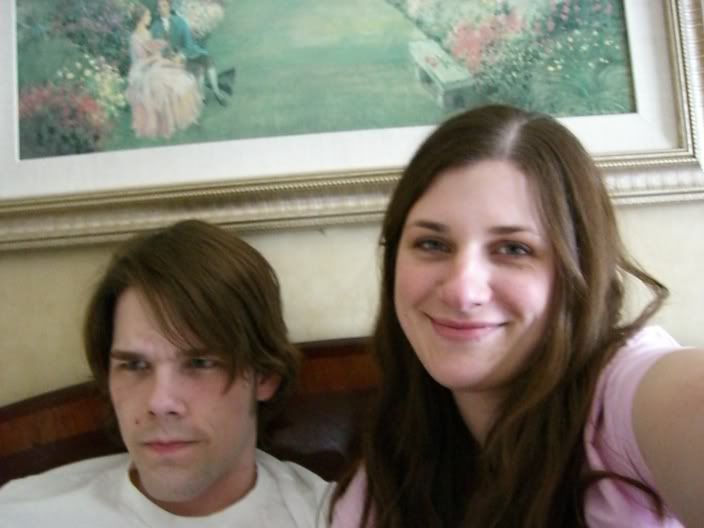 Chris sketching at the Oni Press booth. The wonderful folks at Oni Press couldn't be a nicer bunch and it's always great to see them.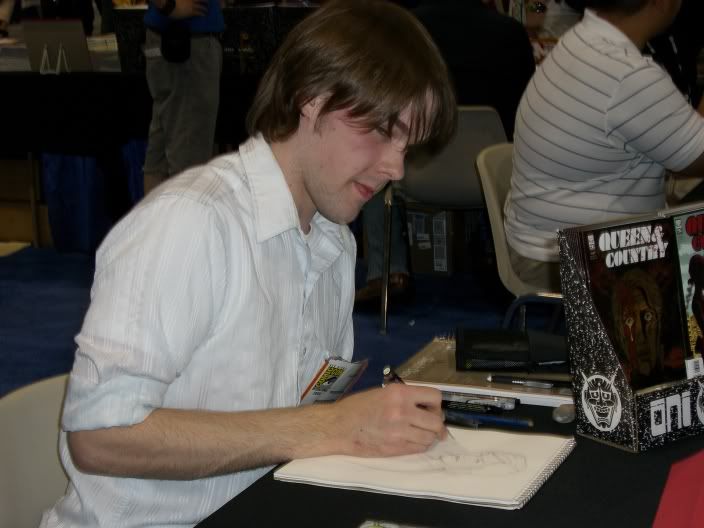 The Eisner Awards on Friday night. It was a much bigger to-do than we were expecting but a lot of fun. There were some great acceptance speeches, including my favorite by Scott Kurtz, who won for his online comic strip, PVP.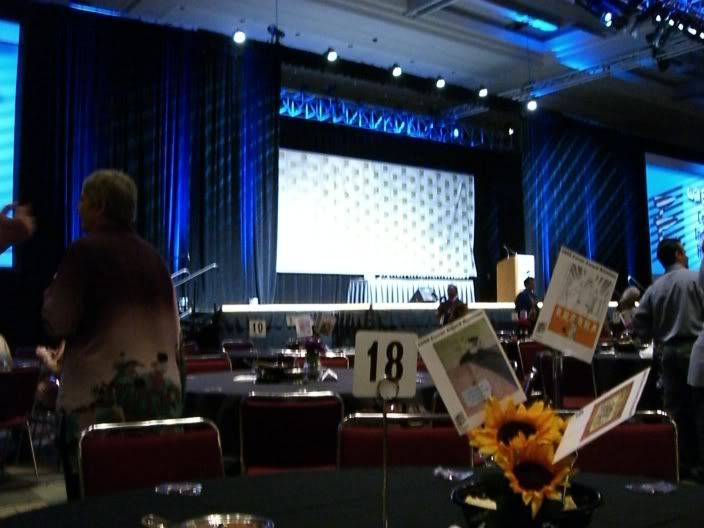 They announced the winner for the Russ Manning (which Chris was nominated for, hence us being at the awards) and I had the sense to have my camera out to capture this shot, but not the shot of his name with a page from Capote In Kansas up on the huge screens. I was seriously so nervous for him. He didn't win, so this is the last picture I took at the Eisners.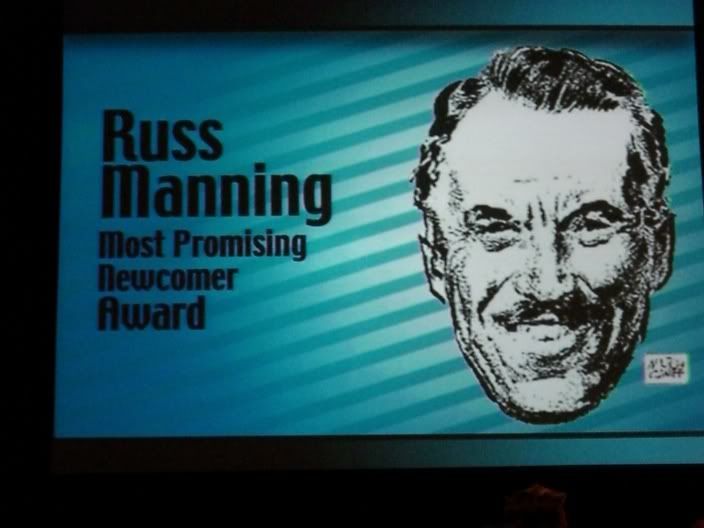 Our last day at the convention (well, actually at Henry's Pub) and a pretty good time was had by all. We met some awesome people (including the stellar folks at Vertigo), caught up with some old friends, survived the almost 100 degree heat, didn't go broke buying original art and Chris got a few compliments as well. We were flying pretty high until we got home.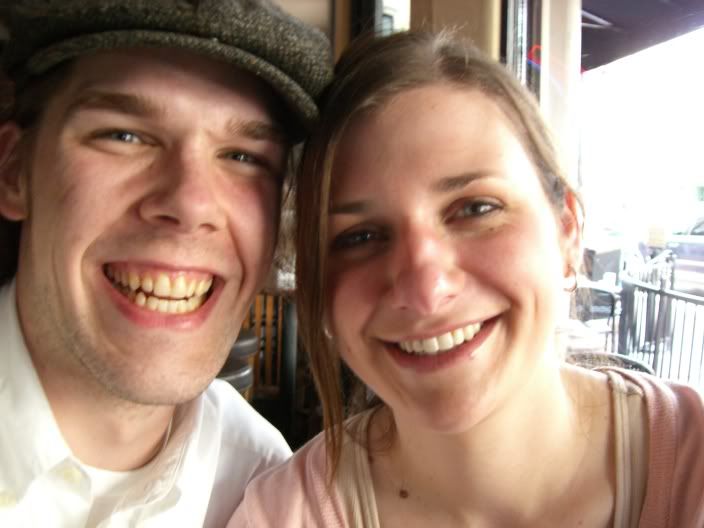 The pictures below are what greeted us upon our arrival. While we were gone, St. Louis had a huge storm with 80 mph winds that knocked this ginormous branch off our tree and onto our neighbors fence and into their backyard. Our house wasn't out of power for long, but a lot of folks still don't have power, almost a week after the storm. Unfortunately, our tree will have to be removed now ( I love our big trees - except when they do this) so goodbye 1300 dollars!!!